Travel with style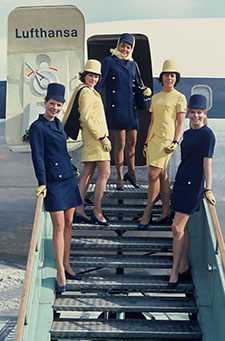 When stewardess was still a dream job.
It is as if there had never been a time when people wore their finest clothes and only their best shoes when on board an aeroplane and the flight itself was the adventure. Stewardess was still a dream job and pilots were looked up to with admiration.
Today it is "Easy jet set" and not class that rules: the airports are filled to overflowing, the queues at the security checks do not move forward and flights are often delayed. The drinks on board cost extra and the seats on the plane are uncomfortable. Where there was once applause for a safe arrival, today people hasten to the exits as fast as they can.
More style with simple means
A return to the noble 1950s might not be possible, but travel with style is also possible today with a few simple means. The places for flip-flops and hiking boots are the beach or the mountains. On board a plane you can score points with comfortable yachting shoes or elegant slip-ons. A classic blazer, matching the shoes in colour, shows fashion awareness. And he who wishes to perfect his style has recourse to a matching watch with a strap of fine leather.
In order that the prescribed sizes for hand luggage might be adhered to, it appears that many people are aware of just one type of luggage: a run-of-the-mill trolley bag. A leather Weekender on the other hand, lends one one's own individual style and applies the finishing touch to your outfit. In order to look elegant when travelling you require neither an ironing board nor a shoe-cleaning box. Drip-dry shirts ensure a non-wrinkled look above the clouds. And for elegant leather shoes there is the shelf-shining sponge by Collonil. This frees smooth leather shoes from dust and slight stains and lends them an irresistible shine, without any polishing at all.
As of now, the Collonil-sponge is a part of every Lufthansa First Class Kit. A simple and quick shine with very little effort. Collonil thus lends the crowning finish to a stylish outfit also when airborne and brings us through its perfect styling just a little bit closer to the noble 1950s.
by Deana Mrkaja