Cleaning and care of sneakers
Simple tips for clearing and care
You can clean your sneakers using those simple household remedies which each and every one of us will find in his own home. We have tried it ourselves and hereby demonstrate, using the example of an "all-time favourite", that you can have your sneakers looking as good as new in the twinkling of an eye.
Cleaning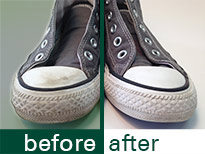 First, the most important piece of advice of them all: do not put your sneakers in the washing machine! By the spin cycle at the very latest first the shoes and then the washing machine will come off second best. Moreover, high temperatures attack stuck-on soles and most types of shoes are simply not designed for the volume of water used in a rinse cycle. Or would you jump into the pool or indeed go swimming whilst wearing your favourite shoes?
For the cleaning of sole and uppers two things are important: soap and the object being cleaned. If the rubber on the upper edge typical for this model (which is visible when wearing) of the sole has been dirtied, you require for cleaning purposes an eraser, a toothbrush, a sponge and a little washing-up liquid. You remove dark stripes from the rubber using the eraser before, with the aid of washing-up water and toothbrush, embarking upon the wet cleaning. In doing so you merely have to take care not to let the fabric of the uppers get too wet (takes a long time to dry). You may also clean the fabric with toothbrush and washing-up water – in circular movements, of course – but here, too, please take care not to use too much water.
The shoelaces can be best treated if you clean them individually. Simply pull them out and wash them clean by hand using normal soap.
Washing-up liquids/soaps contain tensides that dissolve greasy stains particularly effectively and yet are not too aggressive thereby. They are thus well-suited for the cleaning of a wide variety of materials.
After cleaning allow the shoes to dry in the air. Do not put them close to or on top of the heating, however. The dry warmth could make the rubber brittle and distort the shape of the shoe.
You would like to have things a little easier? No problem!
There are, of course, also specialist products that turn the cleaning of rubber soles and uppers in to child's play.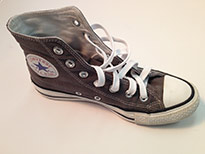 Care
In caring for your shoes, particularly with regard to the protection of the uppers, you should not spurn professional products. You will soon come to the end of the line with your household remedies. In order to protect the material – whether canvass, leather or mesh – against dirt and water, we recommend high-performance waterproofing.
Depending upon the material we offer specialist waterproofing agents which, for example, are attuned to material mixtures (Colour Fashion Spray, Vario Spray) or specific functional materials (Carbon Pro). As an absolute must, treat your new sneakers with a waterproofing agent before wearing them for the first time so that dirt does not have an opportunity to penetrate the material in the first place. Should it nonetheless still get dirty at any stage, cleaning will then be considerably easier.
Become a care expert yourself and subscribe to our monthly newsletter with its valuable tips and tricks on the topics of cleaning and caring for your shoes and accessories.