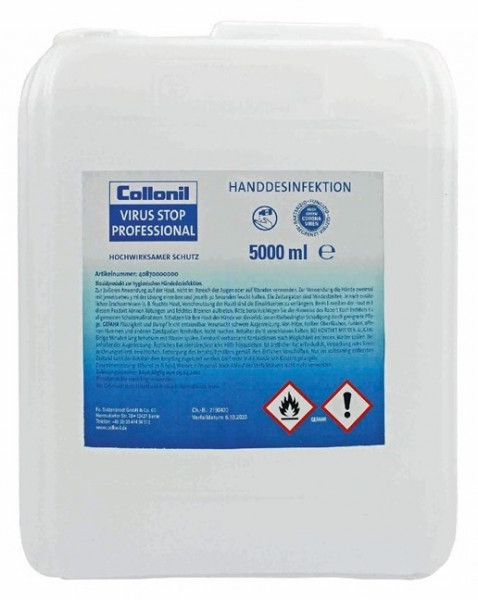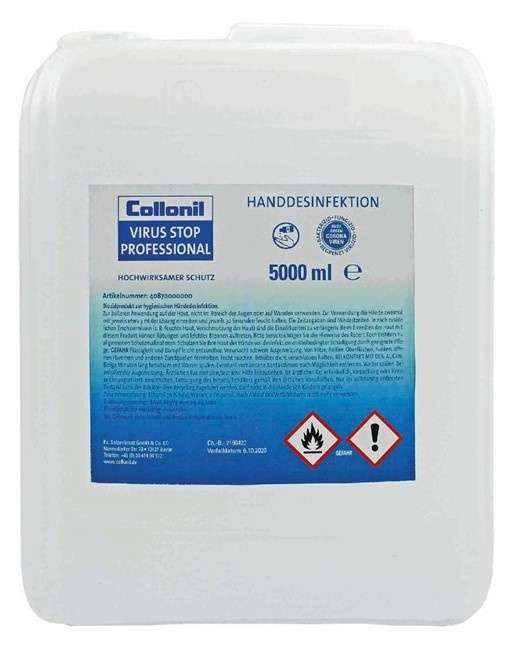 The hygiene expert for hand disinfection
Highly effective, fluid hand-disinfectant
acts against bacteria, yeast fibroids and titled viruses (including corona)
Well dosed and uncomplicated in the application
For outer use on the skin, do not use in the area of ​​the eyes or on wounds
Available for Germany and Austria

Hands

Household
Prices incl. VAT plus abroad shipping costs
Versandkostenfrei innerhalb Germany
Size:
5000 ml (5,30 € / 1 L)
Ready to ship today, Delivery time approx. 3-5 workdays
Collonil Virus Stop Professional hand disinfection is a highly effective, liquid hand disinfectant. For example, eliminates enveloped viruses (including corona), bacteria and yeasts within a short time. It has bactericidal, yeasticidal and limited virucidal effects. Virus Stop Professional is easy to dose and easy to use as a hand disinfectant. For external use on the skin, not around the eyes or on wounds. DELIVERY RESTRICTION: Article is available for Germany and Austria.
Detailed instructions
Biocidal product for hygienic hand disinfection. For external use on the skin, not around the eyes or on wounds. To use, rub the hands twice with about 3 ml of the solution each time and keep them moist for 30 seconds each time. The times given are minimum times. Depending on the additional difficulties (e.g. damp skin, soiling of the skin), the exposure times must be extended. Rubbing the skin with this product may cause redness and a slight burning sensation. Please take into account the instructions from the Robert Koch Institute on general protective measures. Protect your skin of the hands from damage caused by disinfectants by taking appropriate care.
Mandatory information
DANGER Highly flammable liquid and vapor. Causes serious eye irritation. Keep away from heat, hot surfaces, sparks, open flames and other ignition sources. Do not smoke. Keep container tightly closed. IF IN EYES: Rinse cautiously with water for several minutes. Remove any existing contact lenses if possible. Continue rinsing. If eye irritation persists: Get medical advice / attention. If medical advice is needed, have container or label ready. Dispose of contents / container in accordance with local regulations. The container can only be recycled when it is completely empty.
Keep out of the reach of children.
Composition: Ethanol 70% (v / v), water, 2-propanol. Do not use after the expiry date.
Approval number: BAuA AllgVg from April 9th, 2020
Use biocidal products carefully. Always read the label and product information before use.