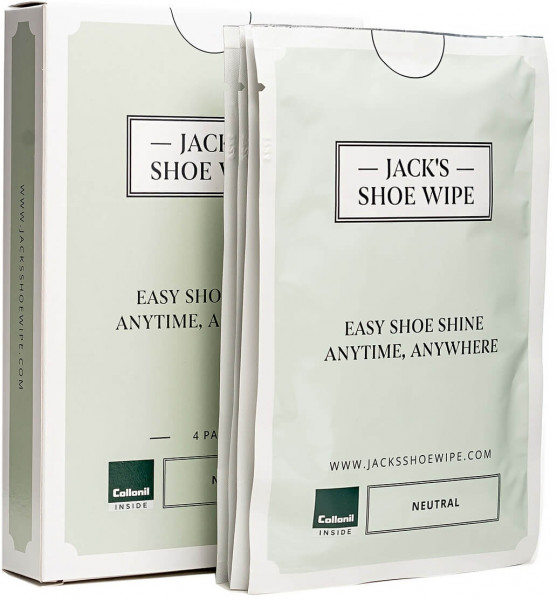 Shoe care towels for on the go
High quality care cups for express treatment of leather shoes
Enriched with the Supreme Creme de Luxe from the line 1909
cleans, nourishes and gives easy and fast new splendor
Jack's Shoe Wipes are the ideal companion on business travel, also perfect for the office and on vacation
A care cloth brings a few business shoes to shine

Shoes

Boots
€3.75 *
€5.90 *
(36.44% )
Prices incl. VAT plus shipping costs
Ready to ship today, Delivery time approx. 3-5 workdays
Jack´s Shoe Wipe is the first care cloth designed for travelling, enriched with our high-quality shoe cream, Supreme Creme de Luxe from the 1909 range. Clean and nourish leather shoes with this premium quality care cloth for use on the go, giving them a lovely shine. The Shoe Wipe´s are an ideal travel accessory for business trips, putting a gleam on business shoes easily and quickly. They´re also perfect for the office and at home. Very easy to use with great results. One cloth is sufficient for careful cleaning of a pair of shoes.
Detailed instructions
1. Shoe cleaning: Take the cloth out of the packaging and without unfolding it, use it on the shoes to remove coarse dirt, sand or dust.
2. Nourishment and care of shoes: Unfold the cloth, wrap it around two fingers with the cream on the outside, and apply Collonil Supreme Creme de Luxe from the 1909 range thoroughly over both shoes.
3. Polish shoes: After the drying and application phase, fold the cloth so that the side with the cream is on the inside, and polish your shoes with the clean, dry cloth side.