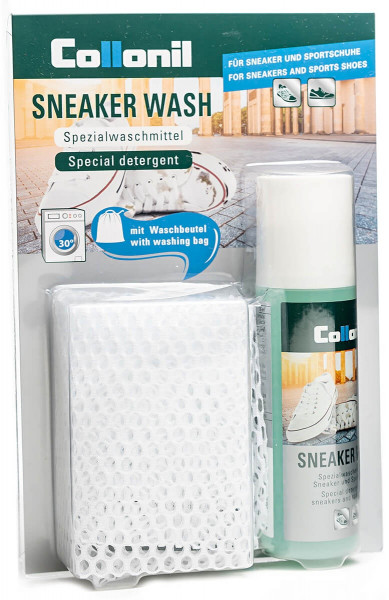 Special detergent for sneakers and sports shoes
Perfect, easy cleaning of sneakers and sports shoes made of textile
Liquid detergent including wash bag
Suitable for the washing machine and hand wash
gives every shoe hygienic freshness, eliminates unpleasant odors behind
Check the shoes before use on fitness for machine wash

Sneakers

Clothing
Prices incl. VAT plus shipping costs
Size:
100 ml (119,50 € / 1 L)
Ready to ship today, Delivery time approx. 3-5 workdays
The Sneaker Wash is a special detergent for fabric sneakers and sports shoes and can be used either in the washing machine or for handwashing. It leaves every shoe hygienic and fresh, and it eliminates unpleasant odours. Check that shoes can be washed in the washing machine before use.
Pflichtangaben
Ingredients: Less than 5% non-ionic surfactants, perfumes, BENZISOTHIAZOLINONE, METHYLISOTHIAZOLINONE, 2-BROMO-2-NITROPROPANE-1,3-DIOL, OCTYLISOTHIAZOLINONE.
Specifications according DetVO: AQUA, ALCOHOL, FATTY ALCOHOL POLYGLYCOL ETHER, LAURYL GLUCOSIDE, CAPRYLYL/CAPRYL GLUCOSIDE, PARFUM, SODIUM LAURETH-6 CARBOXYLATE, CITRIC ACID, BENZISOTHIAZOLINONE, METHYLISOTHIAZOLINONE, 2-BROMO-2-NITROPROPANE-1,3-DIOL, OCTYLISOTHIAZOLINONE, COLORANT