How to Waterproof Your Shoes and Clothes
Waterproofing isn't something to save for a rainy day. Applying water repellent products to clothes and shoes gives them optimal protection, rain or shine.
Taking care of your shoes doesn't have to be a monumental task. Waterproof them, let them dry and voilà, your shoes are protected from the elements. There are a few things you should keep in mind, however, to make sure you get the most out of your waterproofing treatment.
Base Coat for Brand New Shoes
You should give all your newly bought shoes thorough treatment with a waterproofing product immediately after purchase. New shoes generally aren't sufficiently waterproofed by the manufacturer. Spray shoes two or three times prior to their first wear to give them a solid base coat. Later, you can refresh the coat depending on how often you wear the shoes and the seasonal weather conditions.
Proper waterproofing doesn't only protect leather from moisture, but also from dirt. The waterproof layer prevents hard-to-clean dirt from soaking into deeper layers of the leather. You'll also quickly learn that waterproofing shoes makes them much easier to clean.

The Correct Order: Clean, Waterproof, Polish
Make sure to always apply water repellent spray before other care products such as polish, but after cleaning. Waterproofing products affect deep layers of the leather, whilst polish works on more surface-level layers.
Of course, exceptions are often the rule. The exception in this case is called NANOPRO, a spray that creates a water-resistant layer on the surface of leather goods and thus should be applied at the very end, after all other care products.
Step-By-Step Waterproofing Guide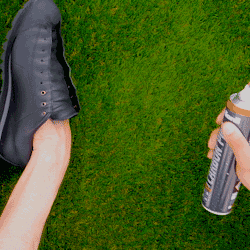 Apply waterproofing spray to your shoes and boots outdoors if possible. If this isn't an option, make sure you apply any products in a well-ventilated space and away from children. PROTECT & CARE is a good choice for environmentally conscious consumers. The pump spray is part of Collonil's organic line and is free from propellants and solvents.

Hold the waterproofing spray about one can's length away from your shoe, i.e., ca. 30cm..

Make sure you apply the water repellent spray evenly and in moderation. The shoe shouldn't get soaked. Instead of the principle 'more is better', think 'a little bit and often'.
Allow waterproofing spray to dry for at least 20 minutes at room temperature after applying. Avoid drying shoes too close to heat sources as these can cause leather to become brittle.
Repeat application frequently. We recommend refreshing your shoes' waterproof coat after every 7-10 wears during winter. You should also apply a fresh treatment after each intensive wet cleaning.
Waterproofing Clothes
Your shoes aren't the only pieces of attire that will benefit greatly from an encounter with waterproof products.
Other articles of clothing, especially porous leather jackets, can easily get water spots if they aren't properly treated. It's best to apply water repellent products immediately after purchase. Waterproofing also helps protect leather jackets from getting dirty. After all, if your leather jacket gets dirty, you can't simply throw it in the wash.
The same can be said of motorcycle gear. In this case, damage from rain, road dust and greasy stains can be quite extreme. However, here it's also important that the waterproofing spray you use doesn't affect the breathability of your gear. It's a difficult balance to strike, but CARBON PRO manages to let moisture out and prevent it from coming in simultaneously.
Functional outdoor or sport clothing and ski gear also benefit from waterproofing. Here, you have the option of using a wash-in waterproof product so you can save yourself the trouble of trying to apply an even coat to a large area with a single spray bottle. Wash-in products also have the advantage of being used solely indoors; no need to stand outside to use them. It's important to note, however, that this type of treatment also requires repeated application.
Allrounders and Specialists
CARBON PRO is a versatile, reliable and high-performance product for all your waterproofing needs, and is suitable for use with shoes, bags, clothing, textiles and both smooth leather and suede or nubuck. The spray can even be used on items with functional membranes. Thanks to its innovative technology, CARBON PRO prevents moisture from entering the fibres of these fabrics whilst maintaining their breathability. The spray forms a grid structure on the material that allows moisture from within to escape, but prevents any external liquid from entering.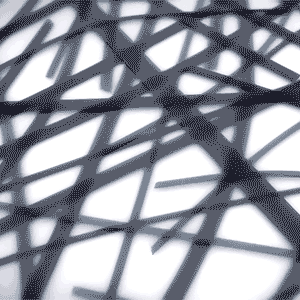 Using an allrounder like CARBON PRO (or NANOPRO) will take care of most your waterproofing needs. However, in some circumstances you'll need to turn to specialist products to give appropriate protection to certain materials.
Here is an overview of our specialist products:
Type of leather

Product

Smooth leather

Waterstop Spray oder

Waterstop Reloaded (PFC frei)

Suede & nubuck

Nappa, aniline, brushed leather

Pull-up leather, oiled nubuck

Sheepskin boots

Silver, gold or metallic leather

Leather clothing

Hiking boots and outdoor equipment

Functional outdoor and sport clothing

Stingray leather, crocodile leather, fish leather, snakeskin, ostrich leather