Test: Care Products for Motorcycle Gear
Motorcycle gear has to withstand extreme strain. Alexander from the Kettenritzel motorcycle blog tested Collonil products on his jacket and boots to see if they stand up to the pressure.
After the first signs of spring and my first hopeful ride a few weeks ago, the winter has returned. This gives me some time to take care of my gear before more tour-suitable weather returns. My bike has gotten its yearly service and new tires. I cleaned my helmet inside and out and got a new visor and pinlock to ensure good visibility.
But the thing I always neglect is my jacket, trousers and boots. Regular care is needed to keep both leather and textile gear functional and durable. At the latest, you can find out whether your boots are still waterproof during the next big rain storm.
While the cold weather persists outside, I'm inside making sure my gear (Revit Ignition 2 jacket, Revit Gear 2 trousers) and boots (Alpinestars Roam 2 boots) are ready for the upcoming season.
Collonil sent me some of their products to test out. So, I let my inner cleaner loose and got down to business.
Cleaning
My gear has both leather and textile components. The insect residue from last season is well dispersed and dried on both types of material. I used the ONE FOR ALL foam to give my jacket and trousers a good base clean. The advantage of this product is that it is suitable to use on all types of materials. You apply it with a sponge and it will take care of any major dirt or grime. The first application worked really well, so I only needed to apply it a second time to more stubborn spots and rub lightly with the sponge. ONE FOR ALL maintains your gear's breathability, nourishes the material and gives it a first layer of water resistance.
I used 1909 LEATHER CREAM on the leather parts of my gear. This gives a deeper clean than the foam and refreshes the colour, but it's only suitable for smooth leather. Even if you have relatively new gear, the black will look deeper after treatment with this leather cream.
After it worked so well with my Revit jacket, I took my much older and worn ICON Vigilante jacket and gave it the same treatment. This jacket also has mixed materials: the body is textile and the arms are leather. The colour refreshing effect was definitely noticeable on the arms.
Waterproofing
Once cleaning was taken care of, I sprayed all my gear with CARBON PRO waterproofing spray. I was able to get even coverage on my jacket, trousers and boots with several coats applied from about a 30 cm distance. Painting rules apply here: don't get the surface too wet and let it dry between coats. Unsurprisingly, it looks like clearcoat after applying it to smooth leather, but that disappears once the material dries. In terms of volume, one CARBON PRO can was enough to give my gear three coats of waterproofing spray.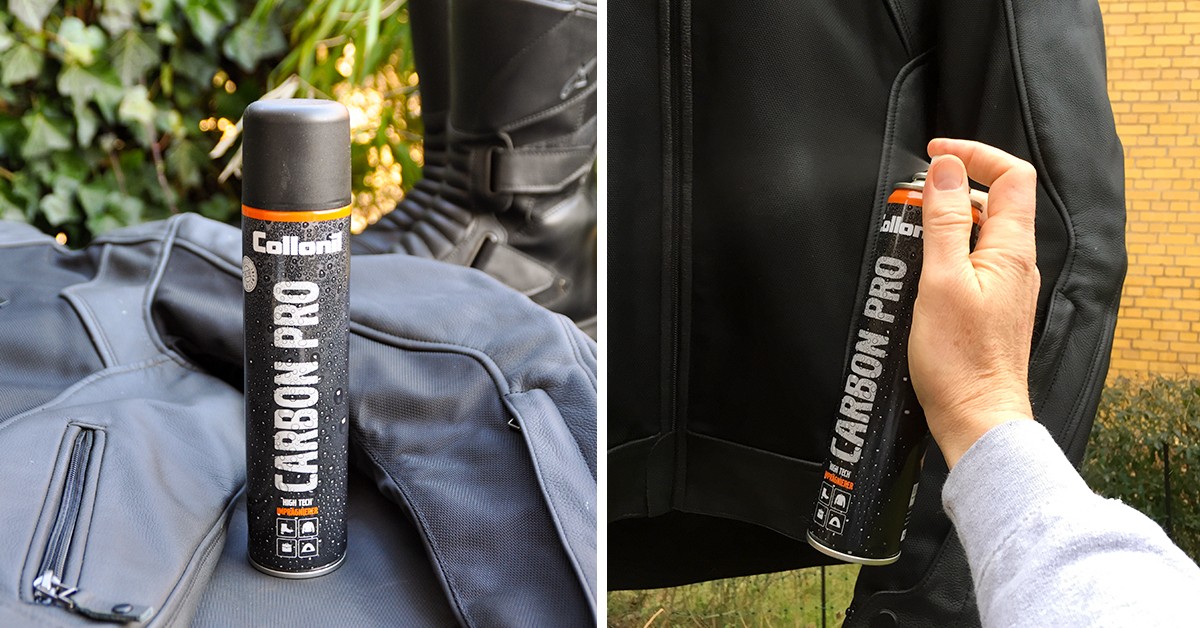 Care
Finally, in order to keep the leather soft and prevent it from drying out, I used 1909 LEATHER LOTION. I used the lotion on both sets of gear. The leather was noticeably softer afterwards. I also used it on my Alpinestar motorcycle boots and they were left with a nice smooth finish.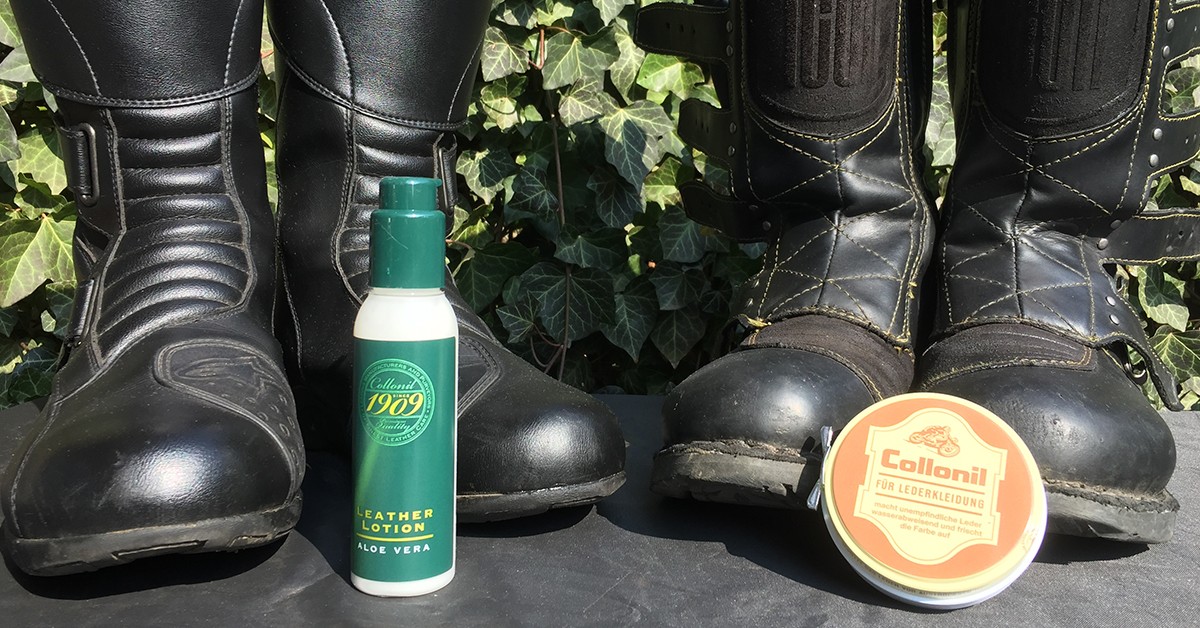 There is special polish for robust leather garments called CARE FOR LEATHER CLOTHING. This was perfect for my ICON Elsinore boots, especially because the gear shift and shin protectors are made of roughened leather. Normal shoe polish doesn't really do the trick. Apply it generously, let it sit and after a light polish, you'll be ready for your next ride.
This week I learned the hard way why regular leather care is so important. I was wearing my ICON Vigilante jacket in the rain and while the leather completely absorbed the products, it wasn't completely saturated. After a while, rain slowly started soaking into the leather. Once I was back home, I treated the arms with the CARE FOR LEATHER CLOTHING cream, which they absorbed straight away.
The care programme took the greater part of an evening, but as I mentioned, I'd been neglecting regular upkeep. I wash my bike after every tour before putting it in the garage and I'll do the same with my gear from now on. Dirt gone, products on and you'll have more fun, longer – plus dry feet.
About Alexander: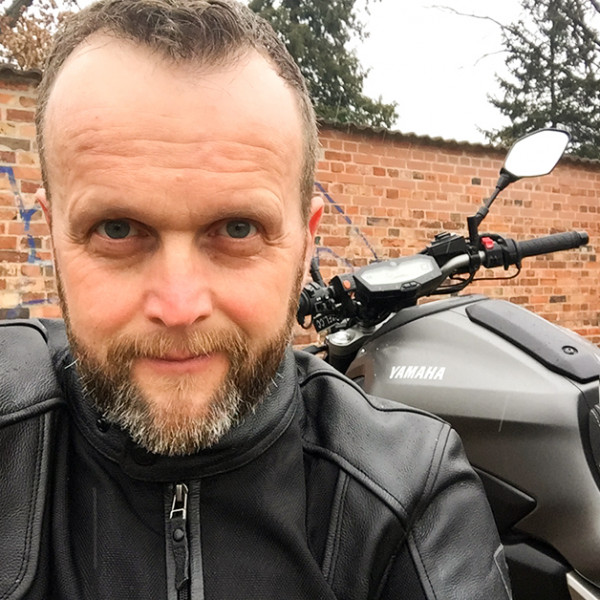 Alexander began his two-wheeler career with a number of small-framed Vespas that he used during his studies and later to navigate the streets of Hamburg and Berlin. A stately 300 GTS Super and a number of other bikes were eventually added to his collection. Since 2012, Alexander has been writing about motorcycles, touring, custom bikes and more on his blog Kettenritzel.cc (in German).