The Outdoor Active Series Snow Test
Collonil has accompanied adventurers on expeditions to the most remote corners of this Earth. Now, winter sport enthusiasts Steffi and Mario from the Alpin-Blog are going to test our line of outdoor products.
We are passionate about mountaineering and spend a lot of time in nature with our daughter Lena Sophie (7 months old). Of course, we prefer to explore when the sun is shining, but we'll still go out in poor weather if the temptation is too great. We live in the Alpine Rhine Valley – essentially in the middle of the Alps – and are on our skis practically every weekend during the winter.
It's interesting because conditions can change so rapidly when you're out there. It can be bitter cold at the start of the trip and then reach sweltering temperatures that are unbearable even in a t-shirt – and all that in one day! We carry large packs and work up quite a sweat when we're carving a new trail. The next day, the same clothes have to be able to withstand snow and wind. Finding gear that is suitable for both strenuous exercise (keyword: breathable) and extreme weather is certainly a challenge. We really value high-functioning gear!
Modern textiles definitely take the cake when it comes to damp/wet/windy conditions – especially when they are well cared for. That's why we were more than happy to give our outdoor gear a 'fresh coat' with Collonil's ACTIVE products at the start of the 2017/18 winter season, which had unseasonably early and intense snowfall. We'd like to share our experiences with you here:
UNIVERSAL PROTECTOR
This waterproofing spray is easy to use and effective. We applied it to our clothes (hard and softshells) and our backpacks and let it soak in overnight. Ever since, rain and snow beads off our gear and the interiors stay dry.
We even brought the spray along with us in the car for emergencies. We also waterproofed the outside (!) of the blue softshell cover on our daughter's hiking carrier (outside softshell, inside fleece). Now the cover stays dry in snow and light rain and we can be at ease during our adventures.
Pros: The spray lasts longer than wash-in waterproofing solutions. There's no need for a washing machine so you can use it on the go. It can also be used for more targeted application.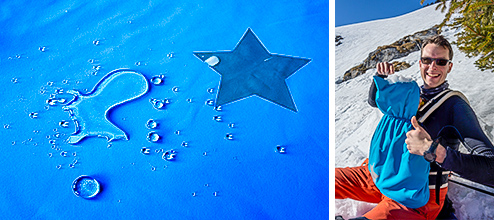 OUTDOOR CLEANER
Imagine you're sitting in front of your tent on a mild summer evening and serving up a spoonful of freshly made pasta when – whoops – the tomato sauce spills down the front of your expensive outdoor gear. Man! If you're travelling with children, you know this story well...
OUTDOOR CLEANER is made for these types of mishaps. We tested it on a pair of fairly dirty yellow ski pants. The spots were from a trip on rough terrain where Mario slipped and fell on muddy ground. At home about a week later, I sprayed the dirty spots, added some water and wiped the area with a towel – voilá– the spots disappeared. The colour of the pants wasn't affected at all, which is obviously important.
We liked the flexibility of using this product as well. It's perfect for on the go when you don't have access to a washing machine.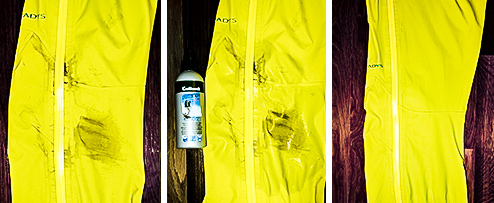 OUTDOOR SHOE DEO
Between you and me, the 'scent' inside of ski boots is a true test for relationships. Washing helps in the short run, but after five wears at most, things are back to their original state. Thankfully, versatile SHOE DEO offers some much appreciated relief in all types of shoes. You can ask your partner whether it's needed ;-)
Environmentally-conscious Steffi was happy to see that the deodorant didn't contain harmful propellants and Mario is delighted that he no longer has to leave his ski boots out to air in the damp, cold garage. Plus, it works with other active footwear like climbing shoes!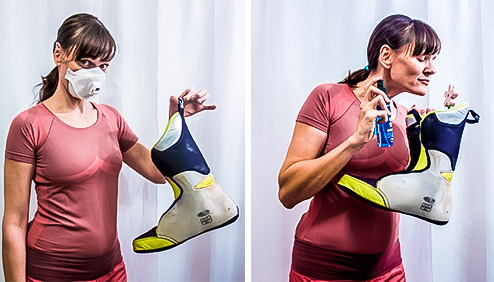 OUTDOOR ACTIVE COMBI SET
We're all about simple handling. Wash-in products offer ease of use and long-lasting effects.
Make sure to read the tiny white tag (i.e., washing instructions) on your clothes before washing them. You can find a key to understanding the symbols online. Temperature, spinning and method of drying are all important points to take note of, especially since not following them may cause serious damage to your gear. As a rule, you should only wash outdoor wear when it's truly necessary. Membranes caked with sweat just can't function to their full potential.
OUTDOOR TEXTILE WASH is a special detergent developed for functional textiles that preserves the breathability of membranes. It's great for softshells, hard shells, down and fleece. We noticed that it didn't cause unattractive pilling on our fleeces which is a big positive. The best part? After a good wash, you no longer have to feel bad around your outdoor buddies;-)
We decided to give our pants and jackets an extra waterproofing treatment in the washing machine with WASH IN PROTECTOR. After the wash, you can quickly pop the items in the dryer to optimise the waterproofing affects. If you don't have a dryer, you can carefully use an iron (with a layer in between). Caution: Some materials don't do well with heat and can only be air dried (keyword: taped seams).
In our experience, this combination works wonders with outdoor jackets and ski pants. We even brought worn-out gear like an old yellow 2.5 layer jacket from Mountain Hardwear back to life using it. Now that the snow and rain beads and rolls off, Mario has started wearing the jacket again on ski tours. It's extra important that water doesn't soak into your outer layer in heavy snow. In fact, when you're high up in the Alps, this function is absolutely necessary for survival – you have to make sure your body doesn't freeze!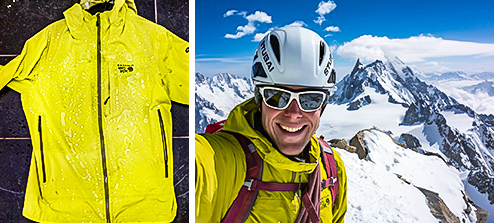 LEATHER & TEX LOTION
Every once and a while, we are out in winter weather without skis. In these instances we're usually wearing snowshoes or mountain boots; for example, during evening sledge rides or if there isn't enough snow for a proper ski tour. If your footwear absorbs snow, however, the fun is over pretty quickly. Wet feet are cold feet. If you're only out for a little while, it's okay, but it's a definite no-go for longer adventures. In any case, it's good to take care of your winter footwear because it helps keep the outer material (synthetic or genuine leather) soft. It's kind of like shoe wellness.
A good product for this is LEATHER & TEX LOTION. You can apply it in about one minute and it seriously works wonders! We tested it on one of Steffi's old trekking boots from the basement. The next day we went for a hike in soft snow up our local mountain. We treated the left shoe with the spray the night before, but not the right one. You can clearly see the results in the photo. Not surprisingly, her foot got cold pretty quickly. Afterwards, she treated the second boot with the lotion.☺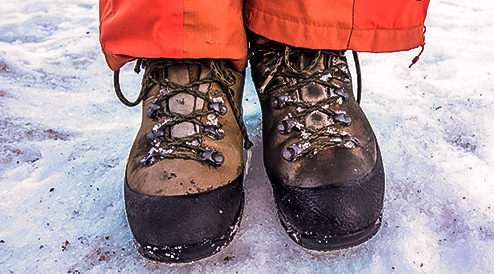 SUMMARY
Well-cared-for outdoor gear means more – and longer – fun out in nature. A fine Gore-tex Pro jacket is useless if it gets wet after a short rain shower. When it's properly waterproofed, the water simply rolls off. If that isn't the case, then it's time for another treatment!
The Collonil Outdoor Active series is great for people like us who'd rather spend their time out in nature than in the laundry room. The products are uncomplicated and do what they claim to do.
Mario and Steffi Kempf