Travel Footwear – Tips for Your Trip around the Globe
If you're travelling around the world, chances are you're going to walk a lot. Do your feet a favour and think twice about what shoes you pack and how to best take care of them.
Many of us dream of it: Taking a breather after graduation or a career break and setting out to explore the world, spending months or years hopping from Canada to LA, Hawaii, Fiji, New Zealand, Australia, Bali and Thailand, and more. Just you and as much as you can carry on your back. This was certainly a dream of mine and it finally became a reality around the time of my 30th birthday.
Of course, a world tour doesn't happen spontaneously. My endless to-do list of preparations included planning my route, booking flights, sorting out accommodation, finding someone to rent my room and getting all the proper vaccines. This list kept me busy full-time for two months.
How to fit a full wardrobe into a backpack?
When it finally came time to pack my belongings, I began to panic. Not only because it meant it was time to say goodbye to friends, family and my bed for a long time, but also because I knew I'd have to radically reduce my wardrobe!
I was planning to be on the road for five months, travelling from a chilly autumn in Canada to tropical Bali during monsoon season. I obviously needed to pack wet and warm gear, but my pack couldn't weigh more than 15 kg or I'd have difficulty carrying it. Without a doubt, the hardest part was choosing which shoes to bring.
Backpacking checklist: Which shoes should I bring?
I wanted to bring shoes that would be suited to all types of situations. I needed footwear that was warm and robust enough to withstand treks on rough terrain. I also needed something that looked decent so I could make appearances in the great metropoles of the world and possibly a few posh clubs. And I wanted something light, airy and easy to take care of for long walks on the beach. I found it very challenging to winnow down my choices.
But tough decisions had to be made. I ended up packing two pairs of sandals, one pair of sneakers and my lime green moccasins. Yes, that's right: lime green, light colour, completely unpractical – but I love them! I hoped that bringing along CARBON COMPLETE, the all-round cleaner from Collonil, would help make sure they returned home in fair shape. The cleaning foam is meant to protect, clean and even waterproof your shoes. You can see and read for yourself how my moccasins withstood the adventures to come:
First stop: Shoes as fresh as Niagara Falls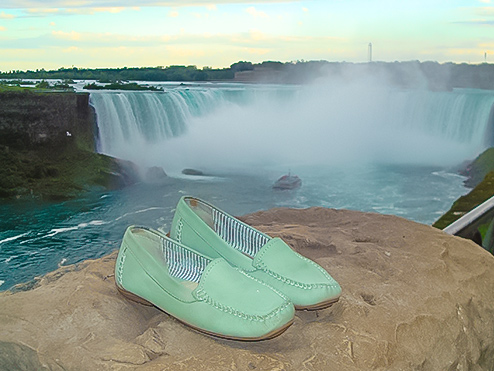 Welcome to Canada. I made sure my favourite summer shoes were looking smart before my five-month trip. I treated them with Collonil's CARBON PRO waterproofing spray to be on the safe side. Here we are posing together at Niagara Falls. Of course, they're no longer the newest shoes on the block – they've already survived three summers in Germany – but they're my favourite pair and so comfortable, perfect for city tours and day trips. Plus, I could even get away with wearing them in the evening to restaurants and clubs around the world.
Next stop: Chuck Norris doesn't worry about dirt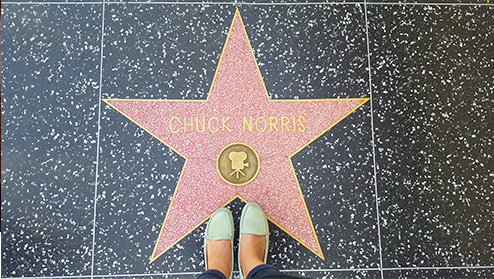 They also pounded the pavement at Los Angeles' Walk of Fame. I'm sure Chuck Norris doesn't clean his shoes. The dirt wouldn't dare go anywhere near them! The same could be said for my shoes after they are cleaned with CARBON COMPLETE. My moccasins were beaming in LA; the first four weeks of travel didn't put a dent in them, and that's despite their 'unpractical' light colour. Obviously, darker shoes are a bit better suited for long trips, but I love a good challenge!
Next stop: Hill climbing and deep clean Fiji-style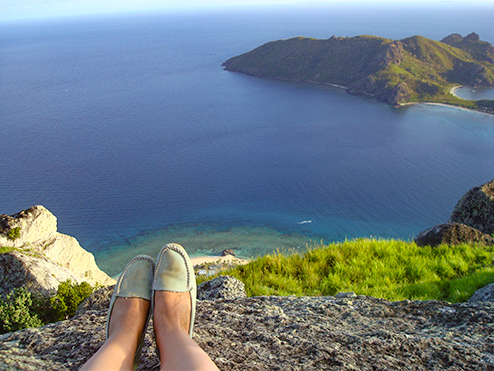 After a short stop on Hawaii, I landed in Fiji paradise. The endless empty beaches, stunning coral reefs and tropical flora certainly left an strong impression. However, I didn't just laze away my days on the beach; I was somehow convinced to go hill climbing. Of course, we went at a nice and easy pace, since we were on 'Fiji time' as the locals like to describe their lifestyle. If I had known what awaited me and my moccasins, however, I would have left them to rest in my bungalow and opted for my sneakers. After an 800-metre climb in 1.5 hours on jungle paths and across rocky ledges, it became clear that the local guide wasn't taking it easy on us. For the first time on this trip, my shoes were looking worse for wear.
But the walk was worth it. In the end, we had a fantastic view over the island where 'Cast Away' with Tom Hanks was filmed. My poor footwear reminded me of beat-up Wilson, Tom Hank's volleyball companion in the film. Not to worry, however, back on the beach I gave them a thorough clean and took some time for deep relaxation in a hammock.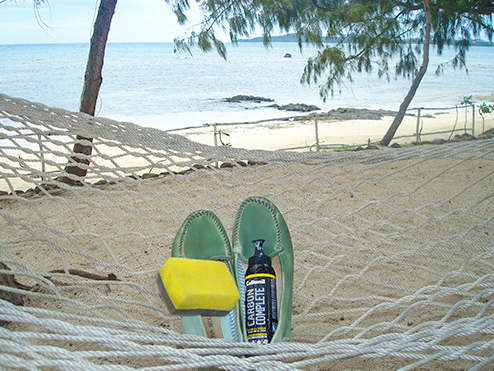 Next stop: In with the persnickety Hobbits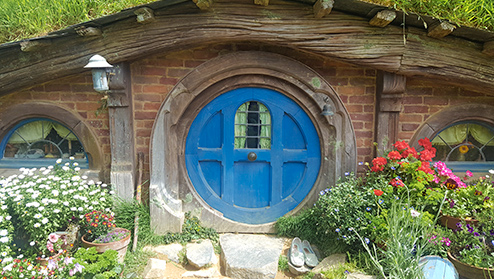 After their deep clean, my moccasins were once again ready to be seen in civilisation. Off we went to visit the tidy Hobbits in New Zealand. The furry-footed creatures don't allow just anyone to enter into their tiny hobbit homes, but we made the cut! Following our foray in Hobbiton, I decide it was time to give my trusted footwear a well-deserved break. Wellies did the job during my time working on a farm.
While the first days of spring in New Zealand were still relatively chilly, summertime temperatures in Sydney called for my brand new flip flops. However, after a few hours of walking around the city on hot asphalt, the sandals were quite literally falling apart at the seams. I kept wearing them, but unfortunately paid the price: weeks later my feet were still covered in painful blisters. Take note: Test your shoes out at home, don't travel with a new pair that you haven't broken in yet!
Next stop: Asian surpris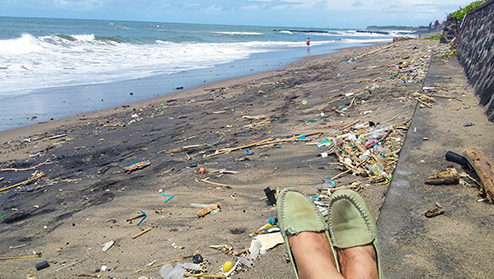 Asia took me by surprise. Rubbish-covered beaches, dirty streets, hostels filled with dogs that snatch and chew your shoes at night – wow. But I found serenity, or 'sabar' as the locals call it, in Bali. There, peacefulness is a whole way of life. I'd learned by then that Collonil had my back and would get my sensitive moccasins back into shape. Both pairs of my flip flops had by then found their way into rubbish bins, but my moccasins were still going strong!
Last stop: Bangkok – shoes are shining again!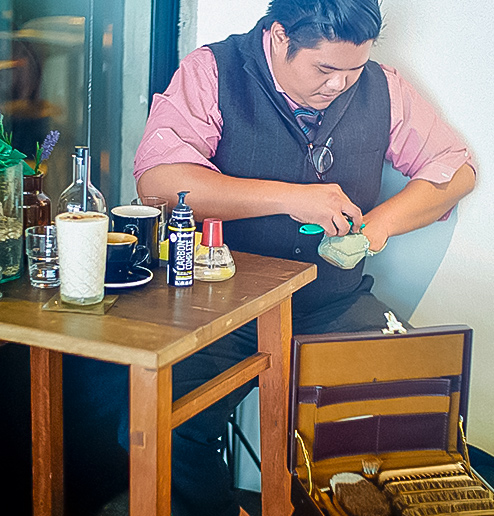 The cherry on top of it all was when shoeshine specialist Aon from Bangkok's Vulture Shoeshine got his hands on my favourite pair of moccasins. He polished them till they looked new. Afterwards, we could both head home glowing and enjoy a few more summer days together in Germany, and maybe even another trip around the world!
What did I learn on the world tour?
A trip around the world opens new horizons and will certainly teach you a few lessons along the way. Remember to stay calm when something doesn't go according to plan, learn to constantly adjust to new people and situations, go with the flow, be forgiving with yourself and others and don't expect everything to go perfectly. Looking back, I acted and looked very German at the start of my trip. After five months without a haircut, wearing the same clothes and countless bumps and bruises, I've learned to be more at ease with my external appearance.
But there is one thing I'll never learn to compromise with: my shoes. I was so happy that I brought CARBON COMPLETE with me on my travels. It lasted for exactly five months and was the easiest and lightest solution to keep my beloved moccasins, sneakers and leather purse clean and cared for. You really don't need anything else to make a polished appearance as a well-travelled backpacker.

Kristina Machalke