Shoeshine Shop in Bangkok: The Dandy of Shoe Polishers
Aon is a shoeshine specialist, shoe collector and an atypical character in Bangkok. Here he tells us why well-cared-for shoes are so important to him and why he is a fan of Collonil products.
Aon stands out amongst the lines of food stands, market stalls with metre-high piles of clothes, and the concert of beeping tuk tuks and cars on the busy streets of Bangkok, population: eight million and counting. While his fellow Thais tend to opt for functional runners, simple t-shirts and jeans in the best case, and sequined Hello Kitty ears in the worst, Aon catches your eye with his classic elegance.

The shoeshine specialist's style makes it obvious that he's a bit different; he looks as though he's from another era. Aon values quality and attention to detail over knock-off name brand clothes, bright cartoon prints or worn runners. His fervour for finery doesn't stop with his selection of clothes, however, it runs deeper; he isn't just scratching the surface. You can get a good sense of this when Aon speaks about his passion for shoes or when he gets started on the merits of traditional Thai cuisine.
Striving for the perfect shoeshine
Aon endeavours to form long-term relationships with the people and objects in his life. As he puts it himself, he would like to 'do things properly'. Thus, the 27-year-old shoe fanatic spends much of his free time searching out rare treasures in vintage shops and flea markets that he later meticulously restores and cares for. His collection ranges from leather shoes and bags to cameras and typewriters. Next to his other projects and interests, including running his pipe club and his band in which he plays drums, Aon has taken it upon himself to polish the footwear of Thailand's capital city to a high lustre. The modern dandy – as he calls himself – is Bangkok's one and only professional shoeshiner.
The man behind the Vulture Shoeshine Shop in Bangkok makes house calls to his clients. An exquisite collection of shoe waxes, leather cleaners and shoe polishes in a range of nuanced colours resides in his brown calf leather bag. He won't settle for any one brand since he searches out the best of each product, however, he did briefly wax lyrical about Collonil's line of products. 'The large assortment of polish colours is particularly outstanding', he said. According to Aon, his clients are 'shoe snobs', as is he, and thus they often speak exclusively about shoes. 'Our passion for shoes connects us. They're much more like friends than clients now. We exchange information and tips on how to perfectly polish a shoe', said Aon, whose actual name is Prote Sakuntalak.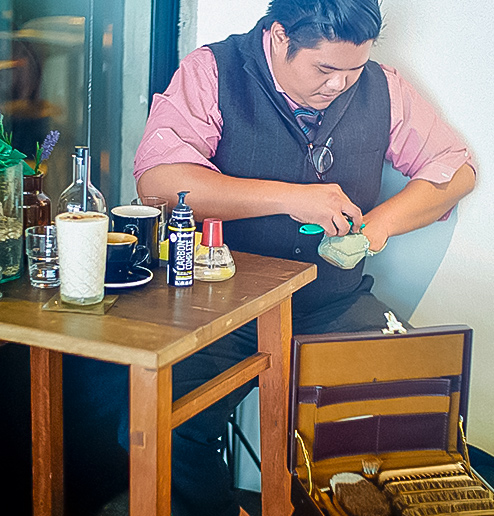 'Clients from India always buy the same shoes'
Aon's customers are primarily businessmen from outside of Thailand who boast large collections of high-quality leather shoes in their wardrobes at home. He floats away into a dream world just thinking about them. He counts 25 pairs of sleek leather shoes as his own. The majority of his collection are leather loafers and oxfords. He discovered his favourite pair in a second hand shop. They're 'Made in Germany', but he can't decipher the manufacturer name since the inner lining is so well worn.
Is there a difference in the way clients from different countries and cultures handle their shoes? 'Yes, definitely!', Aon cried out. 'My clients from India, for example, wear the same shoes every day and have only a few pairs. Then they call me at least every two months in desperate need of my advice and service. Some wear their shoes out completely and then buy the same ones new again', explained the shoe aficionado.
The streets of Bangkok: A shoe's worst nightmare
Apparently his French clients are the total opposite. They have sizeable collections of shoes and know how to take care of them. They also change their footwear at least three times a week. 'Funnily enough', he said, 'the French always wear brown shoes. No one has been able to tell me why that is'. On the other hand, Japanese businessmen in Bangkok are too busy to take care of their shoes. Thus, Aon is responsible for much of their shoe care.
His own people? They like wearing runners and black shoes that will go with anything. 'Thais will buy a nice pair of shoes for special occasions, but not necessarily for work', said Aon. Many – especially men – buy their first pair of fine shoes for their own wedding. A good pair of leather shoes is an expensive luxury item for most people in Thailand. After all, they're a little less than practical on the hot, dusty and bumpy streets of Bangkok.
Show me your shoes and I'll tell you…
A typical pair of leather shoes costs around 10,000 baht (approx. 270 euro) in Thailand. Aon recommends individuals spend nearly twice that on a nicer pair so they can pass their treasured footwear onto their children and grandchildren. He suggests wearing a shoe with a rubber sole for daily use around Bangkok and believes in using shoe trees rather than newspaper for storage. He relies on wax and polish in nuanced colours to get the perfect shine. 'Begin a little lighter, and then go darker', he recommends. 'Especially as the colour begins to change over time'.
Regularly nourishing your leather shoes will keep them moist and supple and help guarantee they enjoy a long life, just like human skin. Moreover, 'take a look at a man's shoes, and you'll have an idea of how he treats his wife', laughed Aon, shoe polisher, modern dandy and a true gentleman who adds a touch of style and stoic thoughtfulness to our fast-paced world.
Kristina Machalke
Title pictures: Vulture Shoeshine Shop