How to Clean Sneakers and Runners (2018 Update)
Sneakers are still trending, but cleaning them can be a bit bewildering with all the different models and materials available these days. Here's an overview of sneaker cleaning tips and tricks.
At times, cleaning runners can seem more complex than caring for leather shoes. This is in large part due to the diversity of colours, shapes and materials found on sneakers. But there is no need to worry, each individual step is easy to follow and effective – as long as you use the right products, of course.
First Level Protection: Waterproofing
All new runners should be waterproofed prior to being worn on the street. Applying two or three even coats of CARBON PROTECTING SPRAY will not only protect your shoes from moisture, but also prevent dirt from soaking deep into the various materials. Waterproofing also makes all subsequent cleaning much easier.
Clean Your Sneaker Soles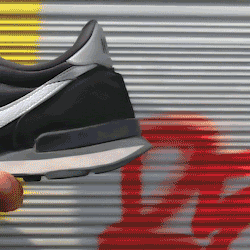 Soles typically pick up the most dirt and grime. Here, it's best to begin with a dry clean. Remove any dry mud with a coarse CLEANING BRUSH. Get rid of any discolourations on the soles with the SOFT GUM cleaning rubber.
For a more in-depth clean, apply MIDSOLE CLEANER to the soles with an CLEANING BRUSH or POLISHING CLOTH. Let the cleaner sit before removing it – along with the dirt – with the brush or cloth. Afterwards, wipe the surface clean with a moist towel or cloth.
Cleaning the Upper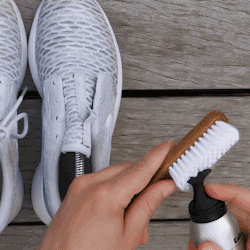 If your shoes are really dirty, there is no avoiding a wet clean. CARBON CLEANING FOAM is a gentle, yet highly-effective cleaner that is suitable for use with all materials.
If you are using it on smooth leather, the foam can be applied directly to the surface. However, if you are using it on suede, fabric or mesh, spray the CARBON CLEANING FOAM onto a brush first and apply it to the shoe in a smooth, even circular motion. Let it sit before wiping it off with a damp cloth.
Stubborn oil or grease stains can be removed with our REINIGER spray.
Waterproof Sneakers = Clean Sneakers
Once your shoes are clean and dry (and before you reach for any polish, etc.), give your runners a fresh coat of CARBON PROTECTING SPRAY waterproofing treatment.
Spray a light, even coat on the shoe outdoors or in a well-ventilated area. Make sure you don't soak the surface. Allow your sneakers to dry at room temperature and repeat as needed.
Leather Sneaker Care
Once clean, your sneakers will likely require some TLC, especially if you want to keep leather sneakers supple. CARBON LEATHER CARE provides both smooth and rough leathers with necessary nutrients. The product will not adversely affect textile portions of the shoe.
These days, you can find sneakers in just about any colour; the brighter, the better. SHOE CREAM is perfect for smooth leather sneakers and is available in over 40 different colours.
We've developed SNEAKER WHITE specially for white smooth leather runners. This liquid care product nourishes the leather and refreshes the white tone.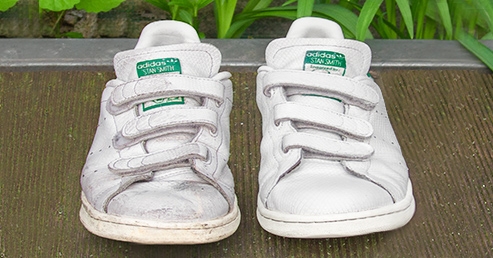 Get the suede, nubuck and textile portions of your sneakers shining with NUBUK & TEXTILE.
Use the NUBUK BOX afterwards to ensure rough leather fibres don't stick together.
Cleaning Sneaker Interiors and Laces
Whilst sneakers are generally lighter than leather shoes, sweat can still become a problem in summer months; this is especially true if you're wearing your shoes barefoot. CARBON ODOR CLEANER will take care of any unpleasant scents. It is most effective if you spray it in your shoes immediately after wear. Not only does it get rid of sweaty odours, but it will also clear away any smoke smells from your last party.
Every now and again, shoe interiors require a deeper clean. Discolourations or sweat rings can be removed with SNEAKER INSIDE.
Last, but not least: the laces. To return laces to their original lustre, it's best to remove them and wash them with SNEAKER WASH soap, either by hand or in the machine.
Sneakers in the Washing Machine
Textile sneakers can be washed with SNEAKER WASH and a laundry net in the washing machine. Place your runners in the bag, set the machine to 30° and use 50 ml of SNEAKER WASH. Keep spinning at the lowest spin speed setting to protect your shoes.
It's even better to wash dirty sneakers by hand, but either way, SNEAKER WASH will leave you with clean and fresh-smelling sneakers. You should always dry your shoes at room temperature and keep them away from heat sources.
Beware: SNEAKER WASH is not suitable for use with leather shoes! Leather should never get completely soaked as it will become brittle. Pay attention to the manufacturer's cleaning instructions; not every sneaker can be put in the washing machine.