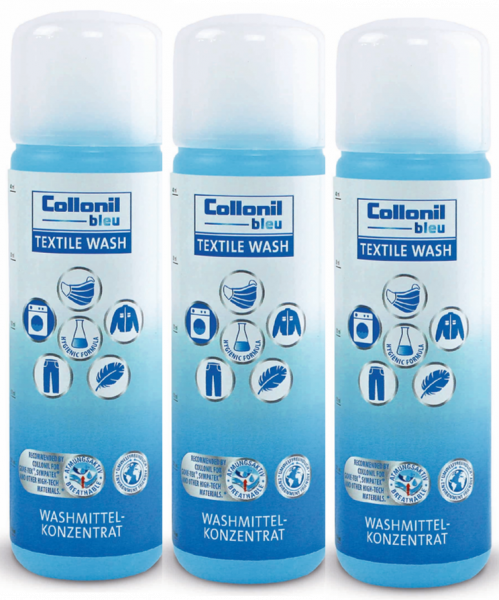 3 x BLEU Textile Wash SPECIAL OFFER. Detergent concentrate for the washing machine or hand wash. Phosphate and bleach-free, ecological high-tech special detergent for all functional textiles, soft shell, down, natural fibers. Works against unpleasant odors. With surfactant based on renewable raw materials. Very biodegradable.

Clothing

Household
€17.85 *
€23.85 *
(25.16% )
Prices incl. VAT plus shipping costs
Ready to ship today, Delivery time approx. 3-5 workdays
Detailed instructions
Follow the instructions of the textile manufacturer. Do not use fabric softener. Only load the drum 2/3. Dosage: 40 ml to 5 liters
Mandatory information
Ingredients: Less than 5% non-ionic surfactants, perfumes, PHENOXYETHANOL, SODIUM PYRITHIONE.
Composition according to DetVO: AQUA, ALCOHOL, FATTY ALCOHOL POLYGLYCOL ETHER, LAURYL GLUCOSIDE, PHENOXYETHANOL, CAPRYLYL/CAPRYL GLUCOSIDE, PARFUM, SODIUM LAURETH-6 CARBOXYLATE, CITRIC ACID, SODIUM PYRITHIONE, COLORANT.
Information on the ingredients/INCI names can be found here: http://ec.europa.eu/growth/tools-databases/cosing/index.cfm