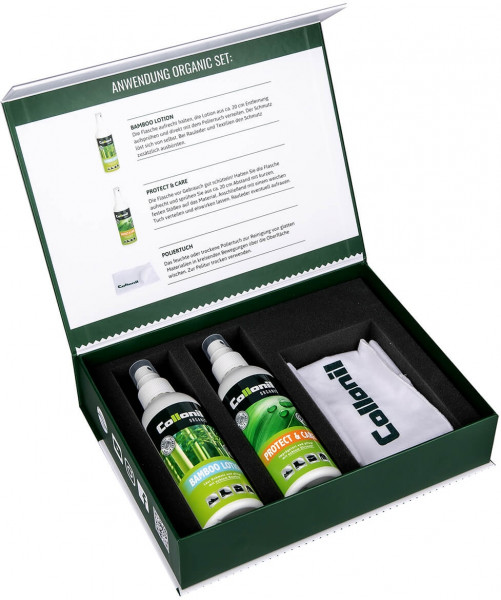 Sustainable care and cleaning set
the Bamboo Lotion cleans perfectly from dirt and cares with bamboo extracts
the impregnation spray Protect & Care protects against dirt and moisture, and at the same time cares for the material with olive oil
made from natural raw materials, with pump spray
the polishing cloth ensures a shine after cleaning and care

Shoes

Boots

Clothing

Bags

Furniture
Prices incl. VAT plus abroad shipping costs
Versandkostenfrei innerhalb Germany
Ready to ship today, Delivery time approx. 3-5 workdays
The Organic Set includes a Bamboo Lotion for removing dirt and care with real bamboo, as well as a Protect & Care for impregnation and care with real olive oil. The polishing cloth completes the set.
Detailed instructions
BAMBOO LOTION - Hold the bottle upright, spray the lotion from a distance of 20cm and spread with a soft cloth. The dirt comes off by itself. In the case of suede leather and textiles, brush off the dirt and let the shoe dry.
PROTECT & CARE - Shake before use. Hold the bottle upright and spray on with short, firm bursts from a distance of approx. 20 cm. Distribute with a soft cloth and leave to work. Roughen suede if necessary.
Mandatory information
Bamboo Lotion: Warnhinweise: nicht erforderlich
Inhaltsstoffe: Unter 5% anionische Tenside, unter 5% nichtionische Tenside, Duftstoffe, PHENOXYETHANOL, SODIUM PYRITHIONE.
Angaben DetVO: AQUA; DIMETHICONE; ISODECANOLETHOXYLAT; SODIUM LAURETH-6 CARBOXYLATE; PHENOXYETHANOL; BAMBUSA VULGARIS EXTRACT; PERFUME; PVP; ALCOHOL; FATTY ALCOHOL POLYGLYCOL ETHER; SODIUM PYRITHIONE
Hinweise zu den Inhaltsstoffen/INCI-Namen finden sie hier: http://ec.europa.eu/growth/tools-databases/cosing/index.cfm
Warnsymbole: nicht erforderlich