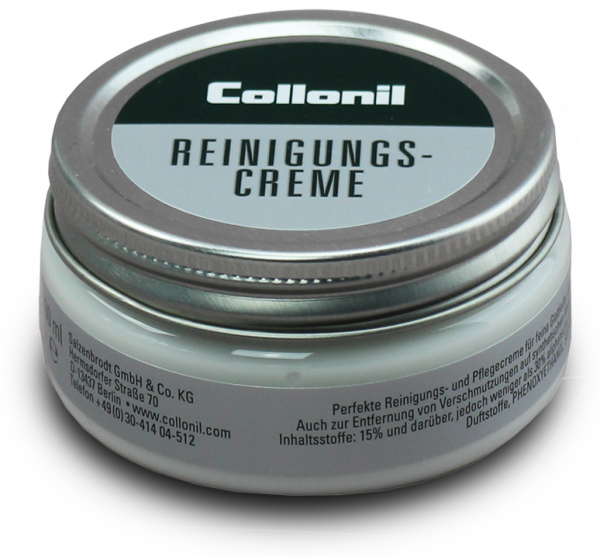 Thorough cleaning and care cream
Removes dirt on fine smooth leather shoes
Also eliminates deep-seat contaminants
Also suitable for synthetic materials, e.g. the midsole of sneakers
At the same time, careful

Shoes

Boots

Clothing

Bags
Prices incl. VAT plus shipping costs
Size:
60 ml (149,17 € / 1 L)
Ready to ship today, Delivery time approx. 3-5 workdays
The perfect cleaning and nourishing cream for fine smooth leather. The solvents contained remove even the deepest stains. The cream is also perfect for removing dirt on synthetic materials such as the midsole on trainers.
Mandatory information
Ingredients: 15% or over but less than 30% aliphatic hydrocarbons, less than 5% non-ionic surfactants, perfumes, PHENOXYETHANOL, SODIUM PYRITHIONE.
Specifications according DetVO: AQUA; C10-12 ALKANE/CYCLOALKANE; DIMETHICONE; DIETHYL ETHANOLAMINE; CARBOMER; PHENOXYETHANOL; ISODECANOLETHOXYLAT; SYNTHETIC WAX; MONTAN CERA; GLYCOL MONTANATE; DECETH-4; LANOLIN; SODIUM LAURETH-6 CARBOXYLATE; FATTY ALCOHOL POLYGLYCOL ETHER; PERFUME; SODIUM PYRITHIONE; CETEARETH >20; CETOLETH-25; Alcohols, C16-18 and C18 unsaturated, ethoxylated
Please find further details about the ingredients as well as the INCI name: http://ec.europa.eu/growth/tools-databases/cosing/index.cfm