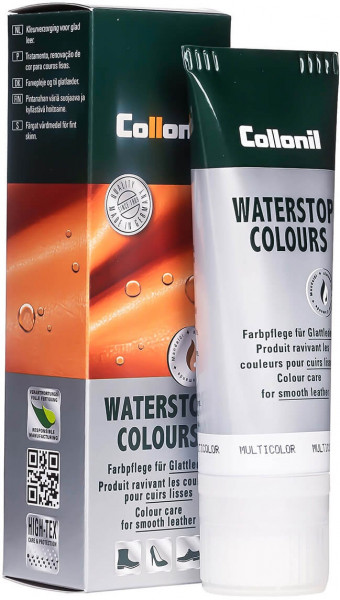 Colored nursing and impregnating cream
Maintains all smooth leather and high-tech materials with impregnation effect
Nourishes the leather, it keeps durable
In many shades, available from classic black and brown to fashionable blue, green and reds
freshly fresh

Shoes

Boots
Prices incl. VAT plus shipping costs
Size:
75 ml (119,33 €/1L)
Ready to ship today, Delivery time approx. 3-5 workdays
Waterstop Colours is a colour-care cream with waterproofing support for all smooth leather and high-tech materials. It nurtures the leather and at the same times keeps it durable, while freshening up the existing colours.
Detailed instructions
Vor der Anwendung sollte das Material gereinigt und je nach Bedarf imprägniert werden. Anschließend kann mit dem Tubenverreiber oder mit einem Tuch die Creme sparsam und gleichmäßig auf dem Material verteilt werden. Kurz trocknen lassen und anschließend nachpolieren, um überschüßige Creme abzunehmen und einen Glanzaufbau herzustellen.
Mandatory information
lösemittelfrei, Öle und Wachse, Flourcarbonharze, Mandelöl, Jojobaöl