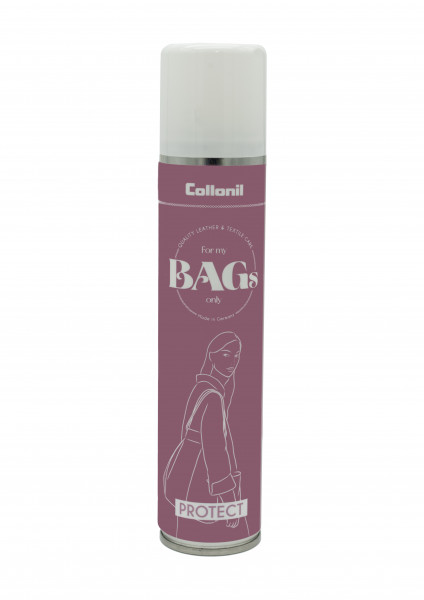 High-quality protection – gentle and sustainable
For all handbags made of fine and grained smooth leather
Also protects suede, nappa and antique leather, textile and synthetic materials
Provides lasting protection against deep soiling and moisture
Gentle material care of your bag
Gives the colors a refreshment cure

Bags

Backpacks
Prices incl. VAT plus shipping costs
Size:
200 ml (64,75 € / 1L)
Ready to ship today, Delivery time approx. 3-5 workdays
PROTECT, the high-quality protection for your favorite handbag. For all handbags made of fine and smooth leather, suede, nappa and antique leather as well as textile and synthetic materials. Protects and cares from deep soiling and wetness with a caring effect and gives the colors a refreshing treatment.
Detailed instructions
Application: Use only in ventilated rooms or outdoors. The spraying distance should be 20 cm to achieve an even spray effect. A basic impregnation is required before using the handbad for the first time, treat the material with at least 3 not too wet applications. Refresh the waterproof protection after approx. 8-10 times of wearing.
Mandatory information
Warning instructions: DANGER Extremely flammable aerosol. Pressurised container: May burst if heated. Causes skin irritation. May cause drowsiness or dizziness. Toxic to aquatic life with long lasting effects. Keep away from heat, hot surfaces, sparks, open flames and other ignition sources. No smoking. Do not spray on an open flame or other ignition source. Do not pierce or burn, even after use. Protect from sunlight. Do not expose to temperatures exceeding 50°C. Avoid breathing vapours/spray. Use only outdoors or in a well-ventilated area. Call a POISON CENTER/doctor if you feel unwell. If skin irritation occurs: Get medical advice/attention. If medical advice is needed, have product container or label at hand. Dispose of contents/container in accordance with local regulations. Keep out of reach of children. Contains: Hydrocarbons, C6-7, n-alkanes, isoalkanes, cyclics, < 5% n-hexane.
Warning symbols: