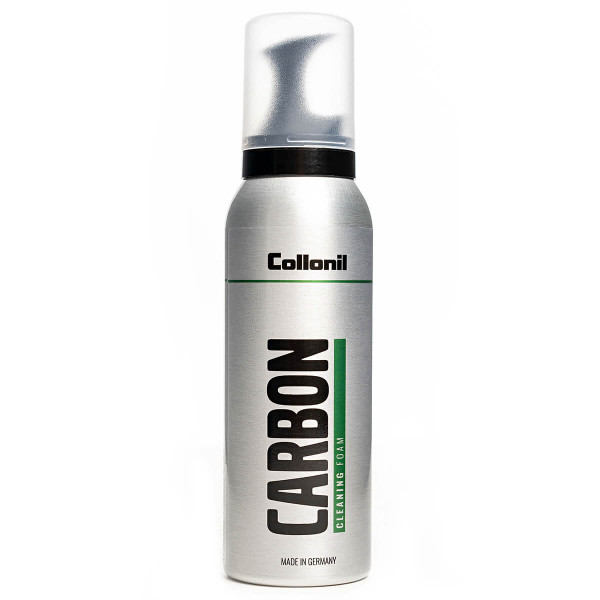 Cleaning foam for gymnastics and sports shoes
Cleans deep-effective
Suitable for all materials
easy and quick to apply
The powerful cleaning foam is ready to use, no mixing necessary
Must-Have from the Carbon Lab line

Sneakers
Prices incl. VAT plus shipping costs
Size:
125 ml (95,60 € / 1 L)
Ready to ship today, Delivery time approx. 3-5 workdays
Ready-to-use foam with high cleaning power. Quick and easy to use on all materials.
Detailed instructions
Hold CLEANING FOAM vertically with the spray nozzle facing down. Spray foam from about 1 cm away on sponge (smooth leather) or brush (rough leather / textile / mesh). Distribute evenly in circular / cleaning movements on the shoe. Remove dirt and foam with a clean and moistened cloth. Allow to dry and buff rough leather if necessary.
Mandatory information
Warning notes: DANGER Extremely flammable aerosol. Pressurised container: May burst if heated. Keep away from heat, hot surfaces, sparks, open flames and other ignition sources. No smoking. Do not pierce or burn, even after use. Protect from sunlight. Do not expose to temperatures exceeding 50°C. IF SWALLOWED: Immediately call a POISON CENTER/doctor. If medical advice is needed, have product container or label at hand. Dispose of contents/container in accordance with local regulations. Keep out of reach of children.
Ingredients: 5% or over but less than 15% aliphatic hydrocarbons, less than 5% non-ionic surfactants, less than 5% anionic surfactants, perfumes,D-LIMONENE, CITRAL, PHENOXYETHANOL, SODIUM PYRITHIONE
Specifications according DetVo: AQUA; BUTANE; PROPANE; ISODECANOLETHOXYLAT; PHENOXYETHANOL; FATTY ALCOHOLS, ALKOXYLATED; SODIUM LAURETH SULFATE; UNDECETH-40; ALCOHOLS, C12-15-BRANCHED AND LINEAR, ETHOXYLATED; DIETHYLHEXYL SODIUM SULFOSUCCINATE; PERFUME; SODIUM p-TOLUENESULFONATE; D-LIMONENE; SODIUM PYRITHIONE; CITRAL
Warning symbols: