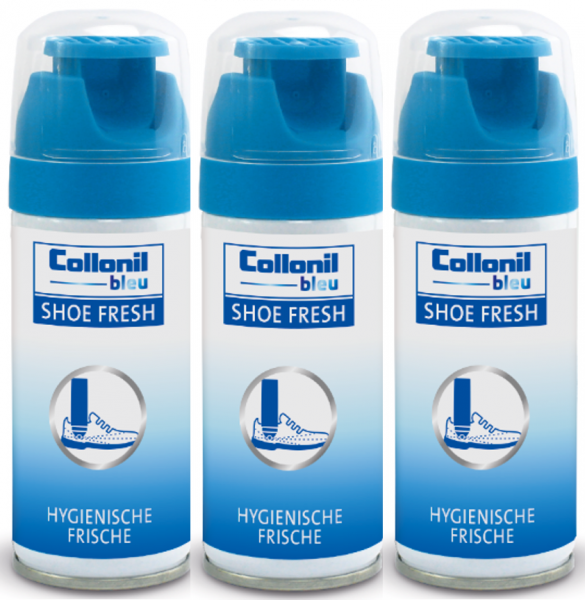 3 x Bleu Shoe Fresh AKTIONSANGEBOT. Shoe Fresh schafft hygienische Frische im Schuh und entfernt unangenehmen Geruch. Gibt angenehmen, langanhaltenden frischen Duft. Bequeme Anwendung durch das Überkopf "Easy Bleu Sprühsystem".

Sneakers

Shoes

Boots
€13.25 *
€17.70 *
(25.14% )
Prices incl. VAT plus shipping costs
Ready to ship today, Delivery time approx. 3-5 workdays
Detailed instructions
Quick and easy to use thanks to the "Easy Bleu overhead spray system" Simply spray into the shoe and let it dry.
Mandatory information
Gefahr. Extrem entzündbares Aerosol. Behälter steht unter Druck: Kann bei Erwärmung bersten. Verursacht schwere Augenreizung. Schädlich für Wasserorganismen, mit langfristiger Wirkung. Von Hitze, heißen Oberflächen, Funken, offenen Flammen und anderen Zündquellen fernhalten. Nicht rauchen. Nicht gegen offene Flamme oder andere Zündquelle sprühen. Nicht durchstechen oder verbrennen, auch nicht nach Gebrauch. Freisetzung in die Umwelt vermeiden. Vor Sonnenbestrahlung schützen. Nicht Temperaturen über 50°C aussetzen. Einatmen von Aerosol vermeiden. BEI KONTAKT MIT DEN AUGEN: Einige Minuten lang behutsam mit Wasser spülen. Eventuell vorhandene Kontaktlinsen nach Möglichkeit entfernen. Weiter spülen. Bei anhaltender Augenreizung: Ärztlichen Rat einholen/ärztliche Hilfe hinzuziehen. Ist ärztlicher Rat erforderlich, Verpackung oder Kennzeichnungsetikett bereithalten. Entsorgung des Inhalts/Behälters gemäß den örtlichen Vorschriften. Darf nicht in die Hände von Kindern gelangen.
Angaben DetVO: nicht erforderlich
Warnsymbole: