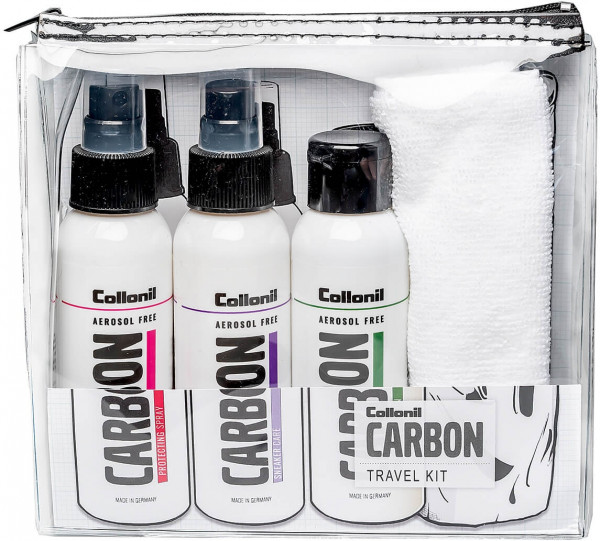 Sportshoe cleaning for on the go
The sports shoe and sneaker set for the journey
Cleaning, protection and care
Coach-friendly in 100 ml bottles filled, aerosol-free
Perfect for hand luggage
Must-Have from the Carbon Lab line

Sneakers
Prices incl. VAT plus abroad shipping costs
Versandkostenfrei innerhalb Germany
Ready to ship today, Delivery time approx. 3-5 workdays
The Travel Kit from the CARBON LAB range contains absolutely no aerosols and is available in 100 m bottles. Perfect for taking on your travels since the set can be taken on any flight in hand luggage just as it is. It contains a can of CLEANING SOLUTION for cleaning shoes, PROTECTING SPRAY for waterproofing after cleaning, plus a can of SNEAKER CARE for material care and freshening up colours. The set is completed with a cleaning cloth for applying and spreading the lotions.
Detaillierte Anleitung
PROTECTING SPRAY AE FREE - Shake the spray well before use. Spray all over the shoe and rub in evenly with the cloth. The waterproofer must be allowed to dry and soak in for at least 12 hours after application, so that a resilient protective film is formed. After drying is complete, brush suede or polish smooth leather as required.
CLEANING SOLUTION AE FREE - Before applying, test part of the material to be cleaned in an inconspicuous spot for colour fastness. Then put some cleaner on a cloth, brush or sponge and clean the shoe. After cleaning, wipe off with a damp cloth and allow to dry.
SNEAKER CARE AE FREE - Spray Sneaker Care directly on to the shoe from a distance of approx. 20 cm and rub into the shoe with a cloth immediately. Allow to dry for at least 24 hours.
CLEANING CLOTH - For applying the lotions included in the set.
Mandatory information
Cleaning Solution Ingredients: Less than 5% non-ionic surfactants, less than 5% anionic surfactants, perfumes, D-LIMONENE, CITRAL, BENZISOTHIAZOLINONE, METHYLISOTHIAZOLINONE, 2-BROMO-2-NITROPROPANE-1,3-DIOL, OCTYLISOTHIAZOLINONE.
Cleaning Solution Detergent Regulation information: AQUA, SODIUM LAURETH SULFATE, ISODECANOLETHOXYLAT, FATTY ALCOHOLS, ALKOXYLATED, UNDECETH-40, ALCOHOLS, C12-15-BRANCHED AND LINEAR, ETHOXYLATED, DIETHYLHEXYL SODIUM SULFOSUCCINATE, SODIUM p-TOLUENESULFONATE, PARFUM, D-LIMONENE, CITRAL, BENZISOTHIAZOLINONE, METHYLISOTHIAZOLINONE, OCTYLISOTHIAZOLINONE, 2-BROMO-2-NITROPROPANE-1,3-DIOL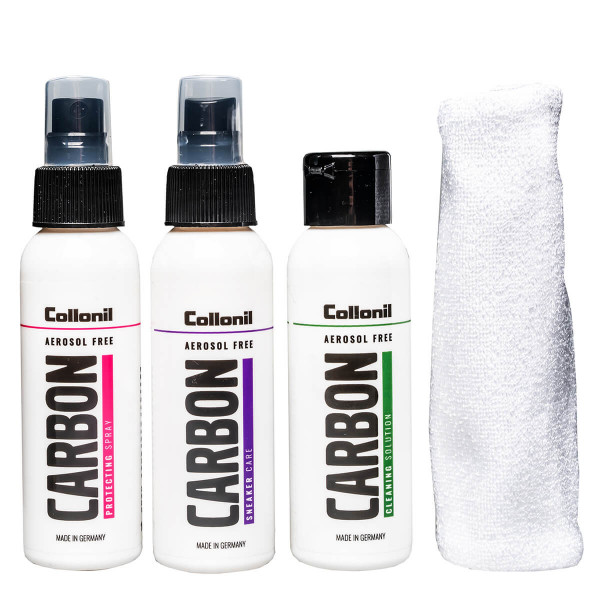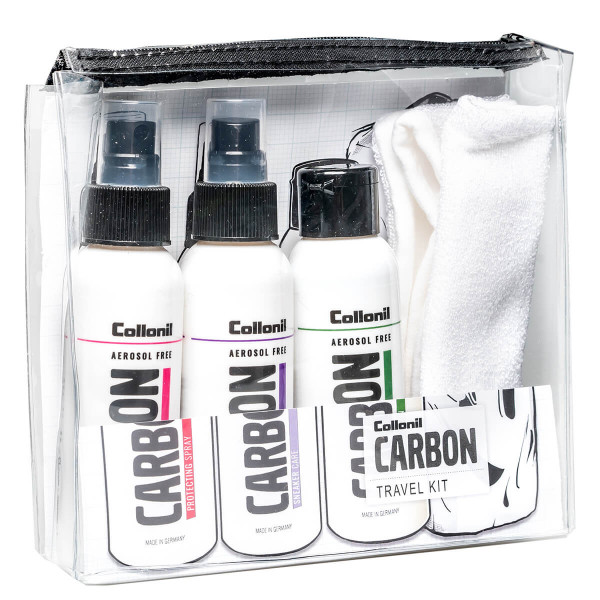 Similar products

CARBON LAB Sneaker Care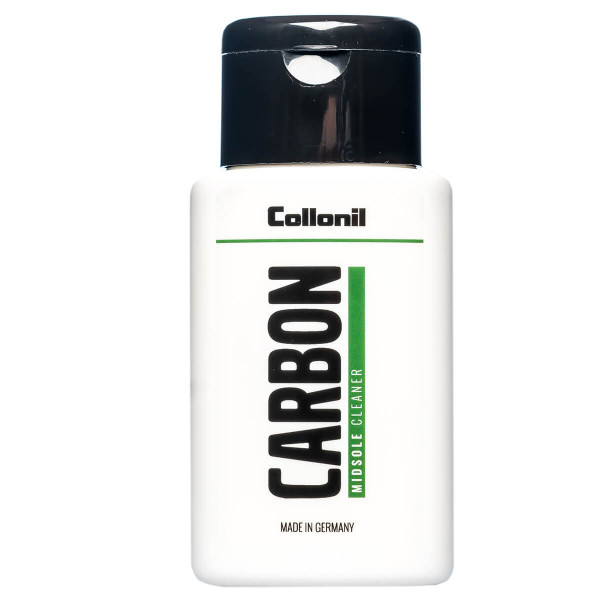 CARBON LAB Midsole Cleaner

CARBON LAB Odor Cleaner