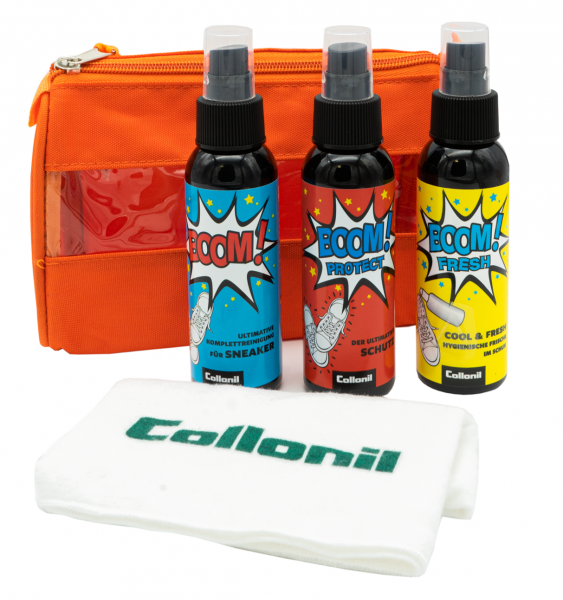 Ultimate Kit - exclusive to our shop
Cleaning, freshness and protection without compromise
easy and uncomplicated to use
with natural ingredients
sustainably certified, without propellant
Ultimate kit with cleaning cloth and cool bag

Sneakers

Shoes

Boots

Clothing

Backpacks
Prices incl. VAT plus abroad shipping costs
Versandkostenfrei innerhalb Germany
Ready to ship today, Delivery time approx. 3-5 workdays
Detailed instructions
BOOM! Cleaner: Spray onto the sneaker, clean with the enclosed sponge, then rub off with a damp cloth and allow to dry. The result: cleanliness like freshly washed. So easy to get to your destination.
BOOM! Protect: shake before use, hold upright and spray on with short bursts from a distance of about 20 cm, soak in and allow to dry thoroughly before putting on, roughen the surface if necessary. By the way: It's not just new shoes that need to be waterproofed before they are worn for the first time. For shoes that are worn frequently, the protection should be renewed every 4 to 6 weeks. It is important to clean and dry them thoroughly before impregnating, so that BOOM! Protect does not trap dirt or moisture.
BOOM! Fresh: Before getting dressed BOOM! Spray Fresh into the shoes, let them dry briefly, slip them on – it works.
Mandatory information
BOOM! Cleaner: Ingredients: Less than 5% non-ionic surfactants, less than 5% anionic surfactants, perfumes, D-LIMONENE, CITRAL, PHENOXYETHANOL, SODIUM, PYRITHIONE.
Composition according to DetVO: AQUA; ISODECANOLETHOXYLAT; PHENOXYETHANOL; FATTY ALCOHOLS, ALKOXYLATED; SODIUM LAURETH SULFATE; UNDECETH-40; ALCOHOLS, C12-15-BRANCHED AND LINEAR, ETHOXYLATED; DIETHYLHEXYL SODIUM SULFOSUCCINATE; PERFUME; SODIUM p-TOLUENESULFONATE; D-LIMONENE; SODIUM PYRITHIONE; CITRAL
Information on the ingredients/INCI names can be found here: http://ec.europa.eu/growth/tools-databases/cosing/index.cfm
BOOM! Protect: Warnings: not required / Warning symbols: not required
BOOM! Fresh: DANGER Highly flammable liquid and vapour. Causes serious eye irritation. Harmful to aquatic life with long lasting effects. Keep away from heat, hot surfaces, sparks, open flames and other ignition sources. No smoking. IF IN EYES: Rinse cautiously with water for several minutes. Remove contact lenses, if present and easy to do. Continue rinsing. If eye irritation persists: Get medical advice/attention. If medical advice is needed, have product container or label at hand. Avoid release to the environment. Dispose of contents/container in accordance with local regulations.
Keep out of reach of children.