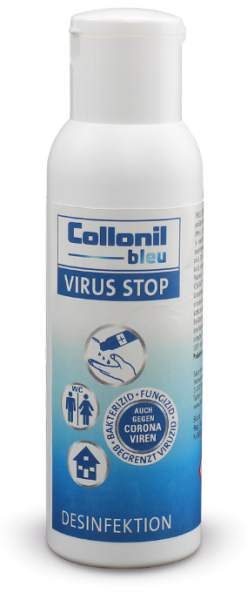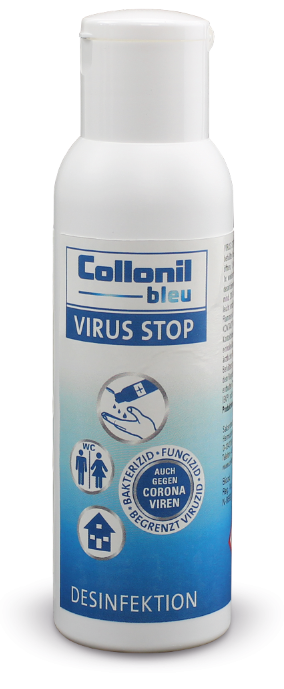 The hygiene expert for hands and surfaces
Highly effective, liquid hand and area disinfectant
Reaction is reliable against bacteria, yeast fibroids and titled viruses (including Corona)
Skin-care through Macadamia oil
pleasant smell
The best companion in hygiene for on the go and at home

Hands

Surfaces

Household
Prices incl. VAT plus shipping costs
Size:
100 ml (39,50 € / 1 L)
Ready to ship today, Delivery time approx. 3-5 workdays
Bleu VIRUS STOP is a highly effective hand and surface disinfectant. Eliminates enveloped bacteria and fungi fast viruses (including corona). Virus Stop is easy to dose and comfortable to use as a hand and surface disinfectant. With macadamia oil - leaves a pleasant feeling on the skin. DELIVERY RESTRICTION: Article only available in Germany.
Detailed instructions
Hand disinfection: Open the flip closure, rub 3 ml into dry hands - the hands must be kept moist for at least 30 seconds. For external use only on undamaged skin. Leaves a pleasant feeling on the skin.
Surface disinfection: Apply generously to the surface to be disinfected, distribute evenly and allow to dry. Contact time at least 30 seconds. Suitable for all alcohol-resistant surfaces. Not for areas with direct food contact.
Mandatory information
DANGER Highly flammable liquid and vapour. Causes serious eye irritation. Keep away from heat, hot surfaces, sparks, open flames and other ignition sources. No smoking. Keep container tightly closed. IF IN EYES: Rinse cautiously with water for several minutes. Remove contact lenses, if present and easy to do. Continue rinsing. If eye irritation persists: Get medical advice/attention. Call a POISON CENTER/doctor if you feel unwell. If medical advice is needed, have product container or label at hand. Dispose of contents/container in accordance with local regulations. The container can only be recycled in a completely empty condition. Keep out of reach of children.
Composition: 100g of solution containing: 71g ethanol, water, butan-2-on, Macadamia oil and perfume. Do not use after the stated expiry date (exp).
Biocide reg. no.: N-86924
Use disinfectants safely. Always read the label and product information before use.