Uncompromising sustainable cleaning
Cleans gentle and residue without pollution
supplies smooth and rattle as well as textile material combinations sustainable with moisture
Bamboo extract forms a detergency barrier and preserves the material from dehydrating
In the environmentally friendly pumping stout, without driving gases

Shoes

Boots

Clothing

Bags

Furniture
Prices incl. VAT plus shipping costs
Size:
200 ml (69,75 € / 1 L)
Ready to ship today, Delivery time approx. 3-5 workdays
Uncompromising organic leather care based on sustainability and environmental compatibility. That's what the Collonil Organic brand represents, as does the bamboo lotion that plays the lead role in this series. It is a complete best-seller, removes dirt and provides valuable moisture to smooth and coarse leather, as well as fabric material combinations. The added natural bamboo extract in turn prevents loss of moisture and stops the material from drying out. The liquid bamboo lotion is produced without propellants and comes with a pump dispenser to ensure environmental compatibility.
Detailed instructions
Keep the bottle upright. Spray the lotion from a distance of 20 cm. Spread it with a soft cloth. The dirt dissolves on its own. Brush off the dirt from suede and textiles. Let the shoe dry.
Mandatory information
Ingredients: Less than 5% non-ionic surfactants, less than 5% anionic surfactants, perfumes, PHENOXYETHANOL, SODIUM PYRITHIONE.
Specifications according DetVO: AQUA; DIMETHICONE; ISODECANOLETHOXYLAT; SODIUM LAURETH-6 CARBOXYLATE; PHENOXYETHANOL; BAMBUSA VULGARIS EXTRACT; PERFUME; PVP; ALCOHOL; FATTY ALCOHOL POLYGLYCOL ETHER; SODIUM PYRITHIONE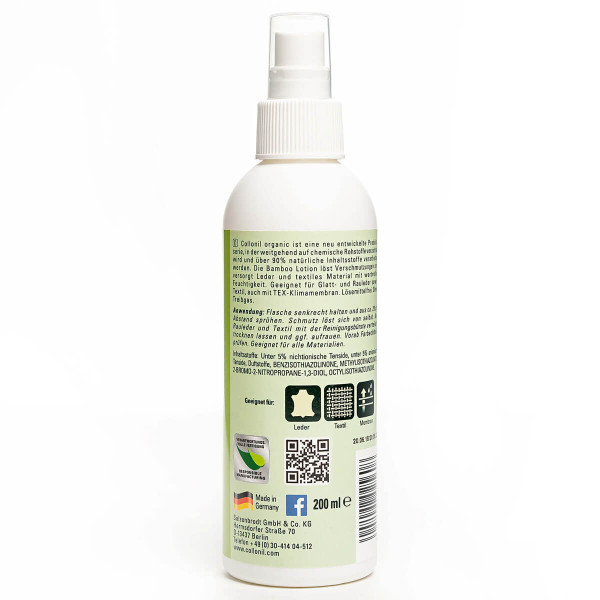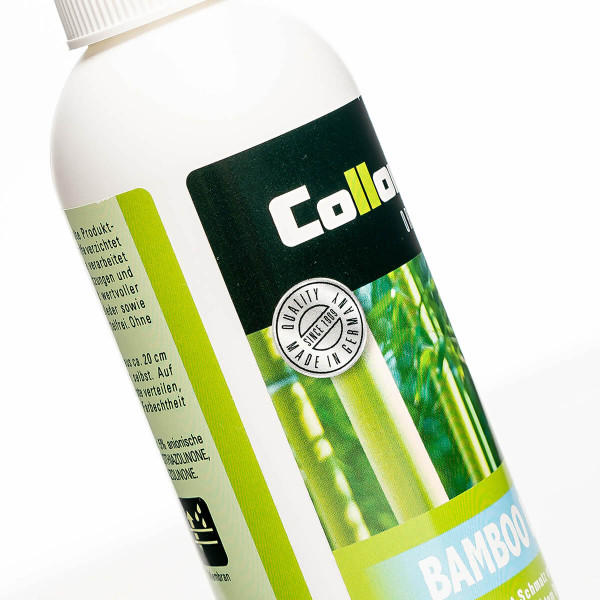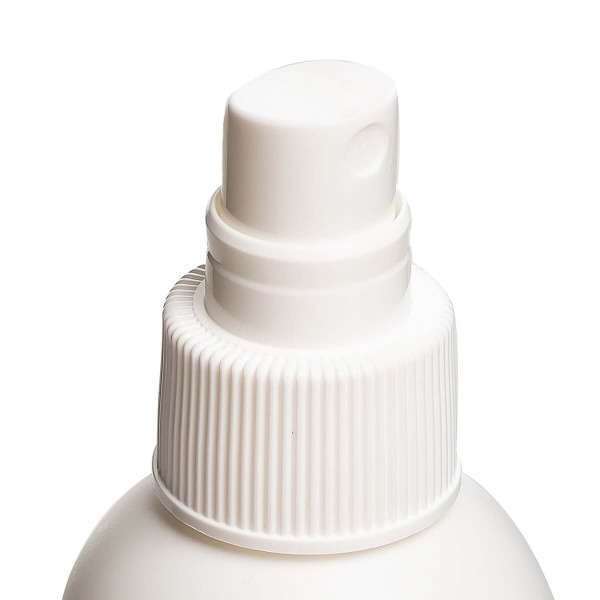 Similar products

Dirt Protector