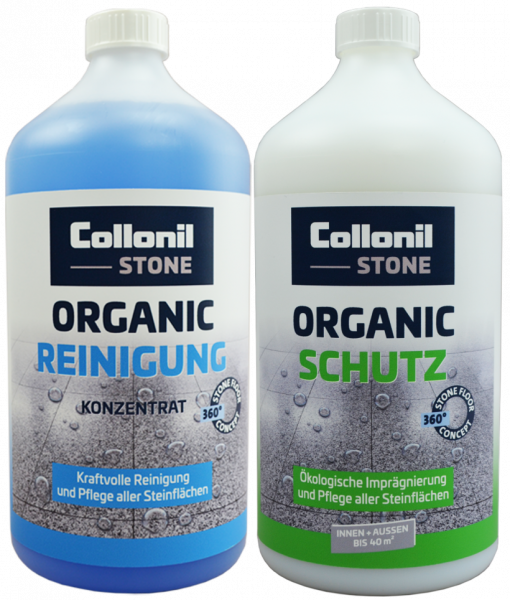 Set of cleaning and protection for all natural and artificial stones
The set consists of 1 x Organic cleaning (1000 ml) and 1 x Organic protection (1000 ml)
For uncomplicated cleaning and high-tech impression of stone surfaces of all kinds indoors and outdoors
freshly freshen and offers highly effective long-term protection
Suitable for stone surfaces inside and outside like terrace plates, tiles, concrete floors, walkways, swimming pool bounds, tombstones, facades, windowsills, kitchen workers and stone floors
Easy application, long-lasting effect

Furniture

Surfaces

Countertops

Facades

Household

Inner space
Prices incl. VAT plus abroad shipping costs
Versandkostenfrei innerhalb Germany
Ready to ship today, Delivery time approx. 3-5 workdays
Special offer: 1 x organic cleaning 1000 ml, 1 x organic protection 1000 ml. For inside and outside. With the right cleaning and protection you can enjoy it for a long time. The ecological set for a wide range of uses. For cleaning and impregnation indoors and outdoors. From the terrace, sidewalk, swimming pool surrounds or gravestones and fences to facades. In the interior, from the kitchen worktop to the noble flooring in the anteroom and bathroom.
Detaillierte Anleitung
Cleaner:
Application: Remove dust and coarse dirt from the surface. Depending on Degree of soiling and material properties in a ratio of 1: 3 to 1:10 with water mix and distribute evenly. Let it act for a moment and use a brush scrubber or rework with a sponge. Also suitable for use with a high pressure cleaner. Treat with clear water. Before using in an inconspicuous area, check for surface compatibility check. Store in a cool and dry place. Protect from frost.
Protector:
Preparation: Clean the area to be treated, preferably with COLLONIL STONE ORGANIC CLEANING. Let dry well. The processing and stone temperature should be between 10 ° C - 25 C lie. With underfloor heating, make sure that a stone temperature of 30 ° C is not exceeded. Before use, check for surface compatibility in an inconspicuous area.
Application: Ready-to-use solution undiluted with an absorbent floor wiper, mop or apply sealing brush evenly and generously. If necessary, absorb excess with an absorbent cloth, to avoid streaks. A second application is recommended for highly absorbent substrates. Polish shiny surfaces if necessary. Coverage up to 40 m² depending on the absorbency of the material.
Drying time: can be walked on after 60 minutes. Full protection after 36 hours.
Mandatory information
Cleaner:
Warnings: not required
Ingredients: Less than non-ionic surfactants, perfumes, PHENOXYETHANOL, SODIUM PYRITHIONE.
Composition according to DetVO: AQUA, ALCOHOL, FATTY ALCOHOL POLYGLYCOL ETHER, LAURYL GLUCOSIDE, PHENOXYETHANOL, CAPRYLYL/CAPRYL GLUCOSIDE, PARFUM, SODIUM LAURETH-6 CARBOXYLATE, CITRIC ACID, SODIUM PYRITHIONE, COLORANT.
Information on the ingredients/INCI names can be found here: http://ec.europa.eu/growth/tools-databases/cosing/index.cfm
Protector:
Warnings: not required
Warning symbols: not required